One of the first pieces of furniture Ryan and I bought together was a bed.  We ended up getting a dark wood sleigh bed, but in true allie fashion it got a "white paint" makeover a few years later:)
all you wood lovers may want to close your eyes!
When we moved to the farmhouse I ended up distressing it as well.
In a miraculous event, one night out on the town with friends I got the hubby to walk into Restoration Hardware with me.  If you don't know Ryan you won't understand how truly amazing that is:)  I drooled for awhile, even though nothing would fit in our house:)  but then Ryan saw a bed similar to this and said, now that I would like….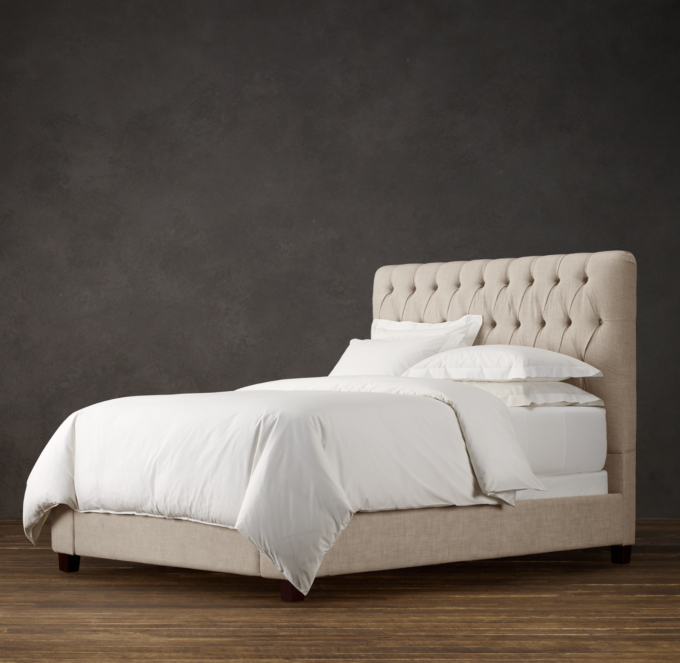 Imagine my shock!  I said, "Honey, if you are asking me to buy a new piece of furniture you just have to say the word!"  This never happens, it's usually me begging and prepping him for about a year and then I finally save enough or wear him down;)  But this lil sweetie rings in around $2500, not even an option for us.
To Ryan's credit, he wanted a new bed because he was sick of a footboard.  He said his feet always hit it so he would love a bed without one.  It wasn't just because he liked the style better, or because he loves change…or because he has a sickness…nope, that's me:)
HE'S JUST PRACTICAL.
But this time I'll take it:)
So, imagine my surprise when a few days later I saw that Joss & Main was having a sale on upholstered headboards….and not only that but everything was an additional 30% off for cyber Monday!  Ryan doesn't know how dangerous it is when he opens his mouth:)
I was debating between this one…
and this one…
Sorry, that was the biggest pic I could find.
So, after much debating….although I loved the top one and was drawn to it, I was cautious that it might be dated a little more than the other.  Also, our house has more of a casual feel, not so formal, so I thought the bottom one was just a bit simpler.  I literally ordered the bed at 11:30, a half an hour before the sale was over…I HATE making impulse buys.  But 30% off was just too good.  I tried to order just the headboard, a steal at $175, but of course it was sold out.  So…I ended up buying the whole bed set for $320, which in the long run I'm grateful.  It came with the frame and upholstered rails and all.
I love when I can trade out furniture without a huge expense, and after I sell our sleigh bed, we aren't out too much money!  Win win.
The bed came in the mail while Ryan was gone up North.  I can't wait for anything, so I dismantled the sleigh bed and put together the new bed all by myself.  Fingers crossed it holds together!
Here's a little sneak peak of her in our room…but I'm waiting a bit to show you the whole room as it is "in decorator's crisis."  One thing always seems to lead to the next….so the story goes.
So here's a little sneak peak!
although I am desperately in love with the old trunk, I kind of want to trade it out for one of these…
Someday:)
I love the natural linen color and the nailhead trim.  It gives it a little masculine feel to even out the soft curve.
I'm still working out the bedding, but I knew I wanted a white coverlet to add some more weight.  I was looking for awhile and couldn't find anything that I liked for under $80, until I ran across this cutie from TJMaxx.  It was orginally $160, at TJ for $80, and clearanced out for $29!!!  Huge score, and I love how playful it is!  I'll show more of it later:)
I'm so grateful that just the headboard was sold out…I love the upholstered rails the whole bed came with.  Definitely worth the price.
So if you've never heard of Joss & Main, you should check it out here.  They run different sales everyday, and they have some really good deals.  The shipping wasn't bad for a huge bed either, I think it was under $20!
**I know some of you are probably thinking, there a million diy upholstered headboard tutorials out there, I can't believe you didn't try to do it yourself.  After reading some of them, and seeing that most people spent at least $125 on foam and fabric alone, this was a much better option.  And the finish looks very high quality, something I know my own diy wouldn't:)