While our house is under demolition, I decided that it would be good for me to work on a few things that I can do.  Like painting.  My first project??  Painting a $5 dresser I scored at a garage sale a couple of months back.  I had been inspired by a friend who had turned her dresser into a vanity, and then started to see a lot of "different" furniture pieces being used as vanities.  I loved the vessel sinks that people were using on top of them as well. 
So what I most liked about this concept was that my vanity could look more like a camouflaged piece of furniture and piece of art, rather than just a place you brush your teeth and wash your hands.  I mean, seriously…how fun is that??
I was a little discouraged when writing this post, because I had taken pictures of the "before" dresser and put them on my computer way back when.  Well, the computer is packed away and now I only have the "afters."  I know…how fun is an after without a before, sorry friends, huge letdown!  :)  But use your imagination with me!!
So this dresser started out with a reddish-orangish varnish all over it.  The pulls were the bronze scrolling flower type ones, you know the kind, you probably had them in your room when you were a kid:)  Also on the top of the dresser initials were carved with a lot of other fun details from a teenage girls room.  So, I took our power sander and stripped her down.  I must admit, I struggled with the idea of leaving it wood or painting it, it was that pretty after sanding.  Put, in the end I knew I wanted a very calming spa like feel to my bathroom and I really think this gray and white combination will give me that.  I also wanted to try out this "Sharkey Gray" a Martha Stewart exclusive that I got in my favorite Behr Paint and Primer in One to see if I would want to use it on my cabinets.  If you remember back to the picture of my ideal kitchen, this is the color the cabinets were.  Super subtle, but I think I'm loving it:)  So, here's a little closer look at the sink.
I was orignally going to do a double sink, but after closer review of our bathroom quarters….the cute "character" got in the way!  The roofline slanted so that I wouldn't be able to put up two matching mirrors, a must in my book to make it look right.  So, I decided on the cheaper alternative, 1 sink.  I also liked the idea of having more counter space since the sinks take up a lot of room.  I changed out the hardware for some polished n ickel pulls, and put a couple coats of water-based polyuerthene on the top to protect it from water spots.  I just found out yesterday that my faucet was backordered til October (not gonna happen) so I am on the hunt for a new one.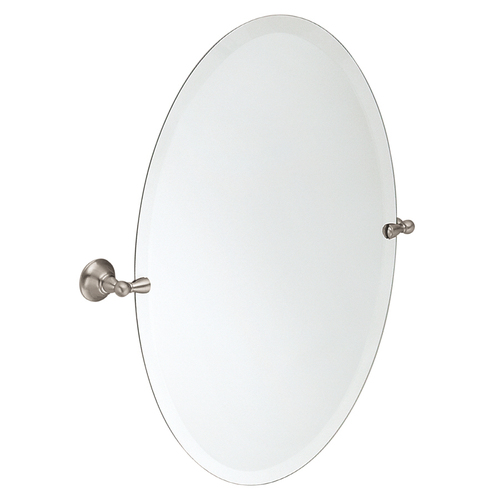 The mirror needed to be narrow as well to fit the space so a frameless one worked great.
So that's it so far.  We need to pick out flooring and then she'll throw together real fast!  Yay, the end is coming…someday:)  I must tell you that more sheet rock went up last night.  Pictures to follow soon!!